Introduction #
The product tab filter block enables users to filter products on your website by, categories, attributes, tags, etc. Your customer comes and click on the desired tab or category in which he want to pick the things.
Important Note: Before adding the Gutenify WooCommerce product filter block make sure to install the WooCommerce plugin.
How to add the WC Product Filter Block? #
So, to add the WooCommerce product filter block to your website just go to the WordPress dashboard menu >> Posts >> Add New.
Note: Select the post or pages where you want to add a WooCommerce product filter block.
Now, find it with the name in the search option and click on it.
After adding the block, it will automatically add products that are saved as a template.
Options #
Now to edit this block you have one tab of content.
Content Tab #
In the content tab, first, you have three layouts.
In "Layout 1" there is an "Add to cart" button.
In "Layout 2" it does not provide the "Add to cart" button feature.
In "Layout 3" you can see text, button and price are showing ina vertical way.
You can pick the layout of whatever you want to apply depending on the site's needs.
Next, you have "Ascending" and "Descending" options to sort the WooCommerce products in a particular order, and in the next few options it is going to be so effective and flexible way to arrange your products.
This is the 3rd option to sort WooCommerce products according to date and title.
In the fourth option, there are product categories you can create and add more.
If you want to add "Men and women products" with "Accessories" you can tick the boxes.
In the remaining two options there are "number of items" and " Columns" that you can increase.
For example, if I add the 6 products with 3 columns then see in the following image how things look like after all the editing stuff.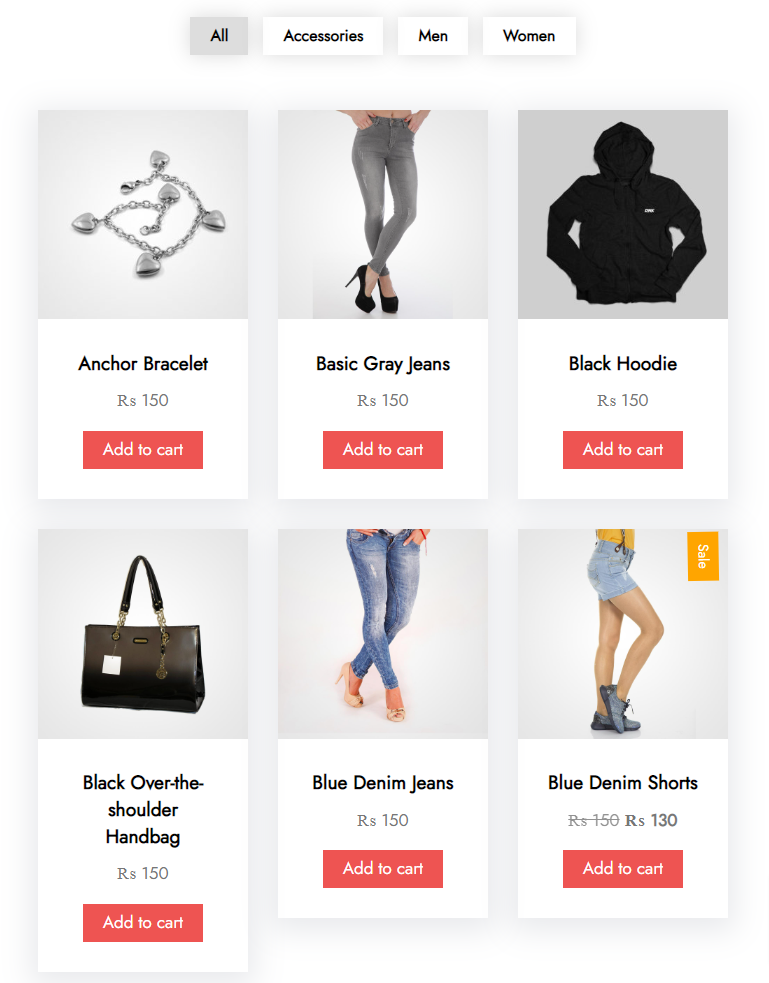 When you're satisfied with your WooCommerce Product Filter block, click "Publish". Simply repeat the same procedure to add more blocks to your posts or pages.
The user-friendly Gutenify WooCommerce Product Filter block is best for showcasing your WooCommerce products in a neat and polished manner.
It enables you to construct a visually appealing product list for your website or online store, which will boost conversions and sales. WooCommerce Product Filter block can be shown on sites, blogs, custom templates, widgets, and more.