Build WordPress Websites
World Class Blocks for WordPress
Elegant set of WordPress blocks along with templates to
help you create the website you always wanted
Latest Features of Our Blocks
Our blocks are as easy to implement using same methods as core blocks. You can select the blocks and add them to your site instantly. Gutenify does not just help you to create our site quickly with beautiful design, but also helps to load your page quicker.
Colors Options
Typography Options
Layouts Options
Advanced Options – custom class names, etc
Using Blocks to build content
Content Oriented Blocks
Your website is a combination of blocks.
Gutenify introduces almost all page building blocks for WordPress. Create Stunning designs
with content from simple to complex.
Team
Use Team Block to showcase your team. Let everyone know how your team comes together to achieve a common goal.
Google Map
Use Google Map Block to add your location, your event location or any other location you want to show to your users
Post Carousel
Showcase your Posts in pretty carousel mode using Post Carousel Block. Tinker with different settings to achieve unique look.
Testimonials
Use Testimonials Block to show your clients/customizers feedbacks towards your business.
Gallery Slider
Use Gallery Slider Block to showcase your gallery to your visitors with slider.

Services
Services Block can be used to showcase the services you provide to your clients/customers.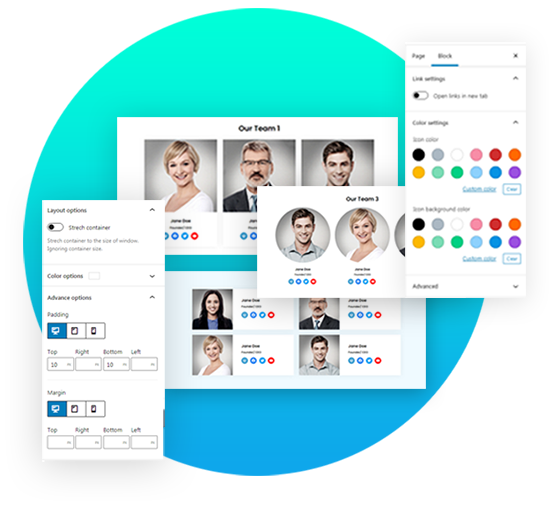 Key Features
Currently, Gutenify has following blocks that can be used.

Gallery Slider, Team, Maps, Testimonials, Post Carousel,
Services, Buttons, Section Title, Star Rating, Info Box

Build Amazing WordPress website
Free and Premium Blocks for WordPress
Elegant set of WordPress blocks along with templates to help you create the website
you always wanted you create the website you always wanted!
Content Building Block
Explore More Features
Gutenify Page Builder is the most feature-rich drag and drop page builder.
With Gutenberg changing, Gutenify also developing
Highly Customizable
Each block is highly customizable with multiple options.

Fully Responsive
All blocks are fully responsive, adapting properly to user's screen and platform.

Color Options
Options to add color options, text color options, background color options, etc.

Extremely Simple
Adding blocks is extremely simple. All our blocks are added using WordPress Core methodologies.
Template Gallery
Template Gallery is coming soon for both free and premium versions of our theme. Once it is released, you will be able to quickly use templates to build your page in one go.

Advanced Options
Each block has few advanced features like adding class names, padding, margines, etc, depending on the block.